Peel Holdings' legal bid for Whitebirk retail park fails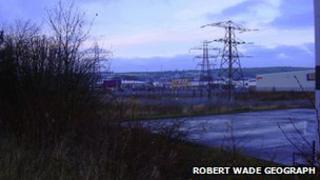 The owner of a Lancashire retail park should not be allowed to extend its range of shops, judges say.
Peel Holdings wants food, fashion and footwear stores alongside existing electrical and furniture shops at its Whitebirk Retail Park.
Blackburn with Darwen and Hyndburn councils contested the Court of Appeal case, fearing the town centre shops would be badly affected.
Peel Holdings said it would now look to take the issue to the Supreme Court.
Hyndburn Council put restrictions in place on trading in goods such as fashion, food and footwear to protect shops in nearby Blackburn and Accrington town centres.
The retail park is only permitted to sell bulky goods such as white goods and furniture.
The council refused to relax the rules in April and a bid for a judicial review of the decision also failed.
Councillor Andy Kay, executive member for resources at Blackburn with Darwen, said: "This is an extremely important victory for both our town centres."
"The court has been clear that we have a justified case and we hope Peel finally accepts that their application is legally flawed."
A spokesman for Peel Holdings said the company was "naturally very disappointed with the outcome of the Court of Appeal".
He said: "Peel will be seeking leave to appeal the decision to the Supreme Court at the earliest opportunity in order for that court to review the position and give clarity to the legal uncertainty which now exists."