Blackpool park named after Ashes legend Larwood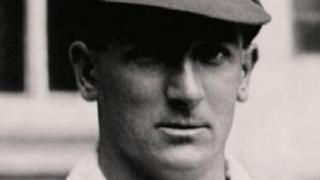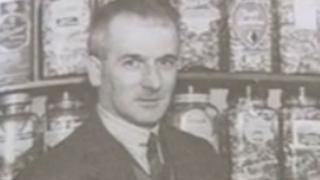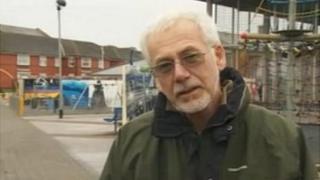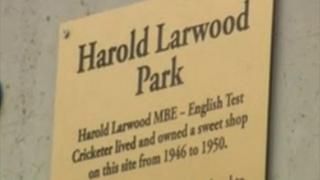 A Blackpool park where a sweet shop owned by Ashes hero Harold Larwood once stood has been officially named after the cricketer.
Talbot and Brunswick residents voted to name the Victory Road park after the man who terrorised Australian batsmen in the 1932-33 series.
Roy Freeman, who lived next door to Mr Larwood's shop, backed the campaign, along with another neighbour John Bradshaw.
He said: "It's brilliant his memory will live on forever here."
'Sporting legend'
The cricketer bought a shop on the corner of Victory Road and Caunce Street in 1946.
Mr Freeman said Larwood, who was originally from Nuncargate, Nottinghamshire, was a "gentleman".
He said: "He sold sweets to us. They were on ration then but he looked after us kids.
"We'd play cricket in the back streets and occasionally he would come out and bowl at us.
"I guess there's not many people around now who have been bowled at, and still survived, by Harold Larwood."
Councillor Graham Cain, cabinet member for tourism and leisure at Blackpool Council, said he hoped Larwood's legacy would inspire youngsters in the area to play sport in the park.
"He was a great sportsmen, an inspiration. It's a pity we haven't got him here at the moment with our current team as we might have had more success in Australia."
Dave Cresswell, chairman of Blackpool Cricket Club, said naming the town centre park after the cricketer was a "fitting tribute".
Larwood was the spearhead of England's attack in the series, bowling fast, short-pitched deliveries in a style known as bodyline.
Following the series, the Australian cricket authorities complained of unsporting behaviour.
Larwood played for Blackpool Cricket Club in 1939 following the end of his first class cricket career with Nottinghamshire. He emigrated to Australia in 1950.
He was appointed an MBE in 1993 and died two years later at the age of 90.