Runaway Stonyhurst pupils: Hotels and beaches searched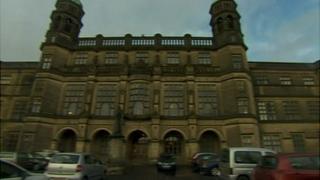 Searches are taking place of a Caribbean island's hotels and beaches for two runaway teenagers from a Lancashire boarding school.
Edward Bunyan and Indira Gainiyeva, both 16, have evaded efforts to track them down on the Dominican Republic.
Police there are sending uniformed officers to the beaches and hotels to search for the pair.
The teenagers disappeared from Stonyhurst College, near Clitheroe, in the early hours of Monday.
They are believed to have taken a taxi to Manchester Airport and flown to the Caribbean island.
'High crime rate'
Colonel Andres Perez Martinez, head of tourist police in Puerto Plata, told the BBC: "We are sending uniformed officers to the beaches and big hotels. You can count on us to find them."
Edward's mother and Indira's parents are thought to have flown to the island to track them down.
The Foreign Office advises tourists that Dominican Republic is friendly but has a "high crime rate", "ranging from bag-snatching and pick-pocketing to violent crime".
Col Martinez said: "It is not dangerous, they should be safe as long as they are careful with their possessions and do not wear expensive jewellery and gold watches."
Stonyhurst College, near Clitheroe, is an independent fee-paying boarding and day school, and was founded in 1593.
Overseas and UK children aged 13 to 18 are taught there with annual boarding fees of about £30,000.
There are 468 pupils at the school, of which 310 are boarders.
Matthew Mostyn, second master at the college, said earlier in the week that their priority was to "find them, to make absolutely sure they are safe and sound and see them reunited with their families".