Runaway Stonyhurst pupils 'safe and well' in Dominican Republic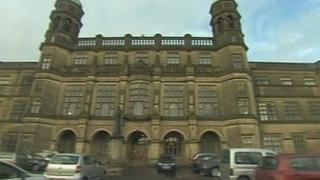 Two pupils who ran away from a Lancashire boarding school to the Caribbean have been found "safe and well", police have confirmed.
Stonyhurst College students Edward Bunyan and Indira Gainiyeva, both 16, were last seen at Manchester Airport at 03:00 GMT on 13 January.
Lancashire Police said local officers had located the pupils in the Punta Cana area of the Dominican Republic.
Plans are now being made for their return to the UK, said police.
A Lancashire Police spokesman said the pair had been found "safe and well at a hotel".
He said they would be given "a welfare de-brief by police following their arrival back in this country".
He added that the police's "priority throughout has been to ensure the safety and welfare of these students" and that after officers had spoken to them, there would be no more "police involvement".
'Overwhelming support'
Stonyhurst headmaster Andrew Johnson said the school was "absolutely delighted" the pupils have been found.
He said the pair were in the care of the police and a family member.
"Staff and pupils have been concerned in recent days for the safety of the two," he said.
"We are really most grateful to parents and friends for their overwhelming support at this difficult time and for their prayers for the safety of the two young people."
He said it was "simply too early to speculate about the future" but "discussions" would take place with the students and their families about what happened next.
The teenagers disappeared from Stonyhurst College, near Clitheroe, last week.
They are believed to have taken a taxi to Manchester Airport and flown to the Caribbean island.
The college is an independent fee-paying boarding and day school and was founded in 1593.
Overseas and UK children aged 13 to 18 are taught there with annual boarding fees of about £30,000.
There are 468 pupils at the school, of whom 310 are boarders.