'Ketamine' blue pill warning to Blackburn residents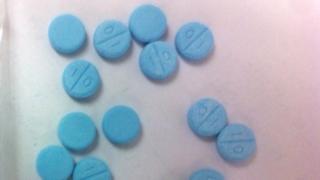 Pills bought on the black market to treat medical conditions may actually contain ketamine, Lancashire Police have warned.
Officers said within the past two days, two separate incidents had been reported where people had been taken ill in Blackburn.
The pills, considered by buyers to be a benzodiazepine, may have been bought illegally on the internet and sold on.
Those who took the pills required medical treatment.
Det Insp Eric Halford said: "I would advocate people not to use any drugs other than those prescribed by a medical practitioner".
Benzodiazepines are commonly prescribed by GPs for a range of conditions such as anxiety and insomnia.