Clive Grunshaw: IPCC probes Lancashire PCC's expenses again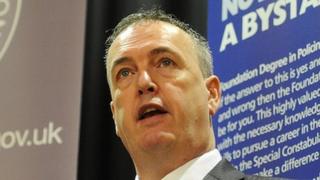 The Independent Police Complaints Commission (IPCC) is revisiting its investigation into Lancashire's Police and Crime Commissioner (PCC).
The Crown Prosecution Service (CPS) has said it will not prosecute Clive Grunshaw over allegations about his expense claims.
But the IPCC is carrying out "further investigatory work" after a complaint about its initial investigation.
Last month Mr Grunshaw said he made "mistakes" in some of his expenses.
Former Conservative county councillor Sam Chapman, whose Freedom of Information (FoI) request to Lancashire County Council first prompted the scrutiny of Labour's Mr Grunshaw, said he had queried the IPCC's investigation report, which has yet to be published
The IPCC is understood to have found 37 incorrect claims and 28 occasions where Mr Grunshaw could have made a claim but did not.
The CPS said in January there was "insufficient evidence" any claims had been "submitted dishonestly" and 28 none-claims "suggests" no financial gain was sought.
'IPCC error'
Mr Chapman, who also edits the Top Of The Cops blog, said: "There are three main problems with the 28 instances where Mr Grunshaw supposedly didn't claim when he was entitled to.
"Firstly, in a small number of claims the IPCC got it wrong thinking he had not made the claims when records show he had.
"Secondly, for over half of the non-claims the IPCC have given no reason to believe he was entitled to claim anything - therefore it would not be to his 'credit' that he did not claim for things he was not entitled to, and more investigation is needed."
He added: "Finally a third of these non-claims would only have been expected in the time after Mr Grunshaw knew his claims were being investigated by me.
"Clearly anyone who knows they are under investigation could change their behaviour, and failure to claim at that point can tell us very little about what his intentions were for the claims he actually made over the preceding three years."
'False allegations'
An IPCC spokesman said: "The Independent Police Complaints Commission (IPCC) is to carry out further investigatory work into expenses claims made by the Police and Crime Commissioner for Lancashire following representations made after an announcement that no charges were to be brought in the case."
Mr Grunshaw said he had received no indication from the IPCC that it was reopening its investigation.
"The only correspondence I have received from the IPCC was to tell me they had delayed publishing the final report in order to make it 'evidentially sound and properly balanced'," he added.
Mr Grunshaw said: "The CPS concluded I had no case to answer and as far as I'm concerned that has drawn a line under Sam Chapman's allegations against me.
"I believe Mr Chapman is once again trying to score political points when it has already been proved his allegations against me were false."‬
Mr Grunshaw, who became the county's first PCC in 2012 after having served for four years as the chair of the county's police authority, responded last month to the CPS's decision by saying he "made mistakes", sometimes claiming too much or not claiming what he was entitled to.