Nigel Evans trial: MP 'in love' with alleged victim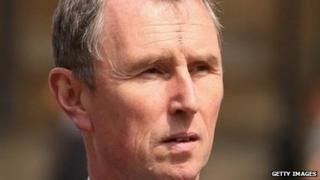 MP Nigel Evans was "in love" with a Westminster worker he allegedly sexually assaulted, a court has heard.
The Ribble Valley MP, who is on trial for nine sex offences, fell for the man according to the alleged victim's then girlfriend, Preston Crown Court heard.
The former deputy speaker is accused of sexually assaulting the man as he slept on a sofa at Mr Evans' home in Pendleton, Lancashire, in July 2009.
He denies one count of rape, six sexual assaults and two indecent assaults.
The complainant, who cannot be named for legal reasons, told the court that after a drinking session he woke in the night to find the MP's "hands all over him".
'Inappropriate contact'
The woman said her ex-boyfriend pushed the MP on the floor and demanded an explanation before making "frantic" phone calls to her for help to get away from Mr Evans' house, the court heard.
The woman told the jury her ex-boyfriend, then aged 23, was "in disbelief" and "really angry" the MP had touched him.
She said she "knew Mr Evans was attracted to him" and believed he had fallen in love with him, the court heard.
She told the court: "I knew there was frequent, in my view what I would consider inappropriate contact between them."
Felt 'sick'
The alleged victim's mother told the jury she saw her son with the MP the day after the alleged assault.
She told the court: "I just felt there was something wrong - it seemed like there was a problem between them."
The complainant told her he was asleep and Mr Evans had "touched him inappropriately", the jury heard.
She told the court it made her feel "sick".
The alleged offences, involving seven complainants, are said to have taken place between 2002 and 2013.
Mr Evans was a Conservative MP before becoming deputy speaker in June 2010, a politically neutral role.
He has not returned to the Conservatives in the Commons. He is representing his constituents as an independent.
The trial will resume on Monday.