MP Nigel Evans 'staggered' following rape arrest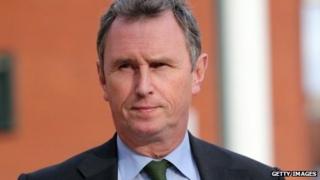 The Conservative MP Nigel Evans told detectives he was "staggered" at being arrested over an alleged rape, a trial has heard.
The 56-year-old MP for Ribble Valley admitted having sex with a 23-year-old man but said it was consensual.
The jury at Preston Crown Court earlier heard his answers to detectives at Preston Police Station last year.
Mr Evans denies one count of rape, two of indecent assault and six of sexual assault.
The Conservative MP is alleged to have raped the man, aged in his early 20s, following a dinner party at his home in Pendleton, Lancashire, last year.
The MP told officers: "Did I have sexual contact with him? The answer is yes. Was it non-consensual? The answer is no".
He added the man involved was "not a wilting flower".
'Caressing and kissing'
The MP said after drinking champagne and wine with guests, everyone left his home apart from himself and the man, who was intending to stay in a spare room.
During the interview, he told police they began "caressing and kissing" and when Mr Evans went upstairs to his room the man asked: "Should I follow you?"
Mr Evans told police he replied "yes" and they then had sex.
He told officers: "At which stage he thought what was going to happen was not consensual, I'm a bit mystified.
"Had he not wished to have any sexual contact with me he could have said so, which he never did. He could have gone up to his own bed."
Mr Evans is alleged to have sexually assaulted seven men on various dates between 2002 and last year.
'Serious allegation'
Earlier, a statement from the Speaker of the House of Commons John Bercow was read out to the jury.
Mr Bercow said a "serious allegation" against Mr Evans was raised with him by Conservative MP Dr Sarah Wollaston, who explained that claims of sexual assault and rape were being made against Mr Evans by two men.
Dr Wollaston, a qualified GP who had previously worked as a police forensic examiner, told Mr Bercow the allegations referred to incidents not in Westminster but in Lancashire, the court heard.
The MP for Totnes said the sexual assault complainant first raised the matter with her last March in the Stranger's Bar at the House of Commons.
Mr Bercow then agreed to meet the alleged victim of sexual assault, and recognised him from previous social occasions.
The jury heard Mr Bercow also agreed to meet the alleged rape victim, but then told those involved it was a police issue after taking legal advice.
The trial continues.