Kate Hollern replaces Jack Straw as Labour Blackburn candidate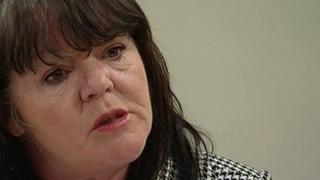 Jack Straw's replacement as the Labour candidate for Blackburn in the next general election is Blackburn with Darwen Council leader Kate Hollern.
The Labour Party agreed an all-women shortlist for the seat after Mr Straw, who has been the Blackburn MP since 1979, announced he was retiring.
Blackburn Labour Party said Ms Hollern received about 60% of the votes.
Ms Hollern, a councillor for 19 years and council leader for 10 years, said it was "humbling" and a "real honour".
She beat Naheed Arshad-Mather, Ann Courtney and Sara Ibrahim in the first ballot.
Ms Hollern said: "I felt so pleased so many people have put their confidence in me."
Mr Straw, 67, said he "couldn't go on forever" when he announced he was standing down in October.
The former home secretary and foreign secretary successfully stood in eight general elections in the constituency.
The Blackburn seat has been a Labour stronghold since 1945 when Barbara Castle, who also filled a number of ministerial roles, was first elected.
She held the seat for 34 years until her retirement in 1979 when Mr Straw, who had been her adviser, succeeded her.
The Labour Party brought in the "women only" shortlists in 1997.
The Conservatives, Liberal Democrats and UKIP have yet to announce their candidates for the Blackburn seat.