Police officer's loss prompts motorbike tiredness campaign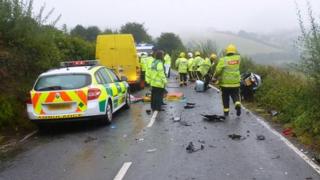 A traffic police officer whose father was killed in a motorbike crash has started a campaign to warn of the dangers of riding while tired.
Mike Mangan, from Bolton, was on the last 10 miles of a 320-mile journey in September when his bike collided with a van while overtaking.
Insp Dave Mangan, from Lancashire Constabulary, believes tiredness was a contributory factor in his death.
A video made by the police officer will be shown to bikers across the county.
Lancashire Police will also hold screenings for riders in Cumbria, North Yorkshire, Avon, Somerset, Devon and Cornwall.
Insp Mangan and his father were travelling from Land's End to Minehead and were in Wheddon Cross, Somerset when the crash happened.
Insp Mangan overtook three vehicles, with his father passing two and waiting for an opportunity to pass the third. As he passed the third he was hit by an oncoming vehicle.
'Lose concentration'
Insp Mangan said: "My family and I are still trying to come to terms with what happened, we miss him every day.
"My dad was a keen and experienced biker. He was a trained advanced motorcycle observer and used to teach other motorcyclists how they could stay safe on the roads.
"When bikers are making a long journey, towards the end they may start to feel tired and lose concentration. It is really important that riders recognise this and adjust their riding to the conditions."
He added: "Even experienced riders can make errors of judgment which can result in serious consequences. Please don't make this mistake."
Six motorcyclists were killed in Lancashire last year, with 173 suffering serious injuries.
A ride to Land's End from Preston in memory of Mike Mangan will start on 9 April, with a minute's silence held in Wheddon Cross on 11 April.