Cancer patient Ben Ashworth's six charity runs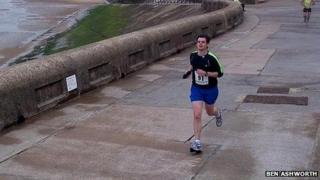 A 35-year-old man who has been diagnosed with untreatable bowel cancer has completed the first of six marathons in six months.
Librarian Ben Ashworth, from Preston, started his fundraising effort with a race in Blackpool.
Mr Ashworth, who is undergoing chemotherapy, also hopes to race in Windermere, Wakefield, Northampton, the Isle of Man and Berlin.
"I really want to give something back while I can," said the father-of-three.
His sister Grace said:, "It was tough going but he managed it in five hours and 30 minutes."
Mr Ashworth, who was a keen runner before his diagnosis, is hoping to raise money for several cancer charities with a fundraising campaign.