MP Nigel Evans sex trial: 'Drunken behaviour, not criminal acts', jury told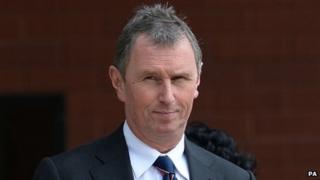 The jury at the sex abuse trial of former deputy speaker Nigel Evans has been told to distinguish between drunken behaviour and criminal acts.
Peter Wright QC, defending the Ribble Valley MP, delivered his closing speech at Preston Crown Court.
Mr Wright said the alleged rape victim had told "deliberate untruths" and that other complainants' evidence "did not add up".
Mr Evans, 56, denies rape, two indecent assaults and six sexual assaults.
'Saving his conscience'
The MP is alleged to have committed the offences against seven young men between 2002 and last year.
Mr Wright claimed there were inconsistencies in the accounts given and questioned the credibility of the evidence against Mr Evans.
The barrister said of the most serious allegation, the alleged rape, that the man now regretted having sex with Mr Evans, but this did not make the MP a guilty man.
The complainant, aged 22, told the jury Mr Evans raped him after a dinner party at the defendant's home in Pendleton, Lancashire, in March last year.
Mr Evans told the court the sex was consensual.
Mr Wright said the young man had told "deliberate untruths" in the account given to police and to the jury to make himself "more convincing".
He pointed to a series of inconsistencies between what he told officers and what he told the jury; there was no pushing on to the bed, no forcible undoing of trousers, no struggle to push his attacker off.
'Not abusing his position'
He added: "In the cold light of day, the complainant may regret what had taken place and how far it had actually gone.
"Saving his conscience is not the basis on which to convict a man of rape and sexual assault."
In 2003, Mr Evans is alleged to have indecently assaulted two men in their 20s by putting his hand down their trousers in a bar in two separate incidents. One is said to have happened in a Soho bar and the other at the Imperial Hotel in Blackpool during the 2003 Conservative Party conference.
Mr Wright told the jury they showed a "drunken over-familiarity" and "inappropriate behaviour by a drunken man" not an indecent assault nor the actions of a politician abusing his position, as the prosecution claims.
Mr Justice King has started summing up the case and will continue to do so on Tuesday.