Burnley woman 'terrified' waking up at point of surgery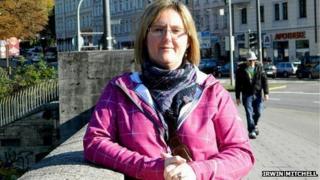 A patient who awoke from an anaesthetic minutes before major surgery has spoken of the "terrifying" experience.
Alexandra Bythell found herself wide awake with her eyes taped, breathing tubes in her throat and medical staff preparing to operate.
Ms Bythell, 36, from Burnley, was having an appendix removed at Royal Blackburn Hospital.
The East Lancashire Hospital NHS Trust has apologised and paid undisclosed damages for her psychological trauma.
Count backwards
It admitted staff had failed to check the levels on an anaesthetic machine but said new procedures were now in place to prevent the same thing happening again.
Ms Bythell, a psychiatric nurse, was told to count backwards from 10 as she received her anaesthetic and believes she must have fallen asleep.
She was unable to move because the drugs had paralysed her and she could hear medical staff speaking about her size and weight. She then felt someone poking and prodding her abdomen before there was a shout for more morphine.
Ms Bythell said she then fell back asleep. The operation continued and was completed successfully.
'Fobbed off'
"The whole incident was terrifying," she said.
"I was hysterical with panic but completely unable to do anything about it. I thought I was in surgery already and I felt like I was going to die.
"Afterwards I tried to explain to the staff what happened but felt that I was being fobbed off with excuses and was constantly given the wrong information - first it was hallucinations, then it was a faulty machine.
"It was incredibly distressing to find out that this was all caused by somebody not checking the machine actually had gas in it."
She was off work for four months after the operation in September 2010 and has been diagnosed with post-traumatic stress disorder, said her legal team from Irwin Mitchell solicitors.
Dr Ian Stanley, Interim Executive Medical Director at East Lancashire Hospitals NHS Trust, said: "We are very sorry for the distress experienced by Ms Bythell.
"We are pleased that a settlement has now been agreed and procedures have been put in place to reduce the chance of this happening again."