Whitemoss Landfill protest march held in Skelmersdale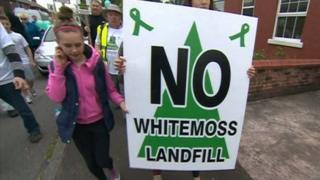 A protest march has taken place against plans to extend a hazardous waste disposal site in Lancashire.
Around 500 protesters marched against an application to extend the Whitemoss Landfill site in Skelmersdale.
Nicola Gray said the expansion would "carve through the landscape" and be "dangerous" to health.
Whitemoss Environmental Solutions said the site was safe and the expansion would "create as well as safeguard much needed jobs in the area".
A spokesman said risk assessments had shown "that the health of workers and members of the public at the site boundary are suitably protected by the containment design and operational controls".
The existing site mostly deals with the disposal of filter cakes and sludges from industrial processes, contaminated soils from redevelopment of brownfield sites and other wastes such as asbestos and ash from incineration.
The spokesman said the plan would see the "construction of new landfill void with an input capacity of 150,000 tonnes a year" to the west of the existing site, which would be used until 2035.
Ms Gray said residents she had spoken to were of the opinion that Skelmersdale "don't want it and don't need it".
"People are very passionate about it and a lot of people have come together against it."
She added that "over 3,000 people" have objected to the Planning Inspectorate about the plan.
A Planning Inspectorate spokesman said a preliminary meeting would be held on 21 May, which would set out a timetable for further examination of the plan and the objections.