Service stations the focus for Ormskirk exhibition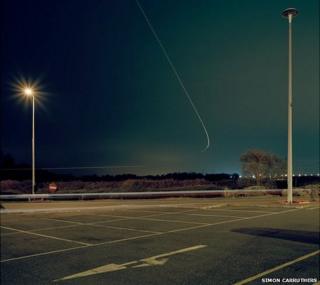 A photo exhibition aiming to show the hidden side of England's service stations has opened in Lancashire.
The display, at Edge Hill University Arts Centre, Ormskirk, features images from several renowned British photographers.
Called "The Motorway Service Station as a Destination in its Own Right", it is inspired by Simon Armitage's 2011 poetry pamphlet of the same name.
Those behind the exhibition say it shows the stop-offs in a new light.
Curator Andrew Conroy said: "We thought the title of Simon's poem lent itself to a photographic project.
"Some of the photographers have been very abstract and some have been spontaneous."
Edge Hill is the second venue to display the work, which was first displayed in Sheffield.
The city's Bank Street Gallery commissioned the exhibition to coincide with the Sheffield Poetry Festival.
Armitage, a poet, playwright and novelist, is Professor of Poetry at the University of Sheffield.
The exhibition runs until 28 June.