Lancashire care home 'did not do enough' to protect residents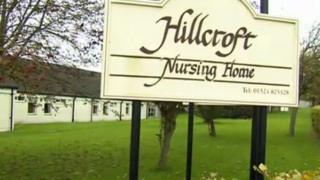 A report into standards at a care home has found management did not do enough to protect residents from abuse.
The review looked at events at Hillcroft Care Home in Slyne-with-Hest, near Lancaster, which saw four former care workers convicted of abusing residents.
Three were jailed and the fourth was given a community sentence.
Elderly residents were mocked and bullied "for entertainment", Preston Crown Court heard.
One man had his foot stamped on deliberately and another was nearly tipped out of his wheelchair.
The vulnerable victims were also pelted with bean bags and balls between May 2010 and September 2011.
The newly-published report by the Lancashire Safeguarding Adults Board found that although there was no suggestion the abuse was long standing, it was not treated as serious criminal behaviour.
'Upsetting events'
It said management failed to inform police and other agencies, and also failed to dismiss staff, even when an internal trainer said one of them had a "serious attitude problem" and should not have been working with vulnerable people.
The report's authors made a number of recommendations, including reviewing its whistle-blowing policy.
It added that managers should "review the quality and delivery of training", and pay more attention to staff members' values and behaviour.
Lancashire County Councillor Tony Martin, cabinet member for adult and community services, said: "We welcome this comprehensive report and we accept its findings.
"Our sympathies remain with the residents and families involved in these very upsetting events, and we have apologised for any delay on our part that may have meant the perpetrators were not brought to justice earlier."
A statement from Hillcroft said management welcomed the publication of the review and were carefully considering the recommendations.