South Ribble Tories pick Seema Kennedy as candidate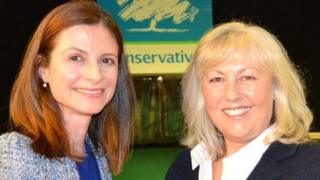 A businesswoman whose family fled Iran after the 1979 Islamic revolution has been chosen as the prospective Tory parliamentary candidate for South Ribble.
Mother-of-three Seema Kennedy, 39, who grew up in Blackburn, was chosen by party activists with 50% of the vote.
Current Conservative MP Lorraine Fullbrook announced in September she would step down at the next election.
Ms Kennedy said she was "humbled and honoured" to be selected.
Ms Fullbrook, 54, who won the seat from Labour with a 5,554 majority at the 2010 General Election, said she was "delighted" that another woman had been chosen as a candidate.
Ms Kennedy, whose father is Persian and mother Irish, is a Cambridge graduate who specialised in property law and is involved in the property business.