Hidden WW1 trenches uncovered in Blackpool park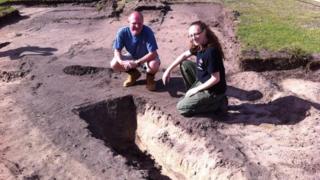 Training trenches from World War One are being excavated in a Blackpool park nearly 100 years after being filled in.
The trenches, under Watson Road Park in South Shore, were created to help train volunteers who signed up after the outbreak of war in 1914.
They became a visitor attraction in 1916 with entrance fee money being used to support a convalescent hospital for wounded soldiers at Squires Gate.
After the armistice the trenches were filled in.
Covering nearly two miles, the WW1 trench system was an exact replica of those on the Western Front.
The project to excavate the old trenches began after researchers identified an aerial photograph of the park from the 1980s that showed evidence of a buried trench system.
Work is being carried out over the next two weeks by an archaeology team from the University of Salford, local expert Nigel Neil and volunteers.
It is not yet known if the trenches will stay open after the excavations.