Chorley Market Walk development plan could create 200 jobs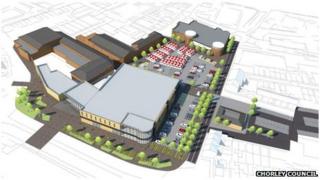 A £10m shopping centre redevelopment in a Lancashire town could create 200 jobs, a council has said.
Chorley Council has unveiled plans to extend Market Walk to bring "a flagship retailer" to the town.
The council bought the shopping centre in November for £23m.
Leader Alistair Bradley said people wanted "big-name retailers" in the town centre and extending the shopping centre was a "key part" of attracting them.
The council said it was considering the development of up to eight new units, over two storeys on the Clifford Street side of the Flat Iron Car Park.
It may also demolish the civic offices on Union Street, to create additional car parking and another leisure unit.
The scheme would be funded by the council, with no development taking place without getting tenants signing up in advance, a spokesman said.
The council will now hold a public consultation on the plans.