Blackpool zookeeper's MSc in sea lion whiskers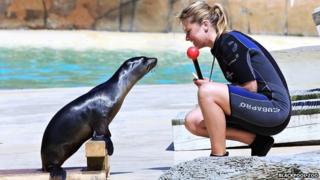 A zookeeper in Blackpool has been awarded a masters' degree for her research into sea lion whiskers.
Liverpool-born Alyx Milne, 27, combined her work at Blackpool Zoo as an animal trainer/presenter, with her studies at Manchester Metropolitan University.
Her dissertation on the motor neuron abilities of sea lions' whiskers earned her a distinction from the university.
Ms Milne said sea lions' whiskers were very sensitive and could help them to find fish.
She said their whiskers picked up vibrations in the water and air, leading them to food.
---
Sea lions
•Any of five species of eared seals which are found primarily in Pacific waters
•They are characterised by a coat of short, coarse hair that lacks a distinct undercoat.
•Unlike earless seals, they are able to rotate their hind flippers forward to use all four limbs on land
Source: Encyclopaedia Britannica
---
Her paper is being featured in the Comparative Physiology Journal.
Ms Milne said: "Working with the sea lions at Blackpool Zoo has been a major part of my research and I'm so pleased I have something so great to show for it."
A trip to SeaWorld in Florida, when Ms Milne was five-years-old, first sparked her love of marine animals and she has known she wanted to work with them ever since, she said.
Ms Milne is now aiming for a PhD relating to marine mammals.