Blackpool donkey rides take chip and pin payments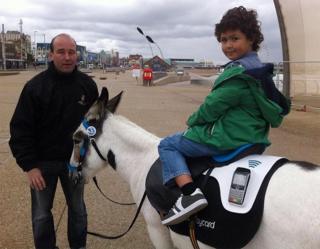 Traditional donkey rides on Blackpool beach can be paid for by a new cashless payment system.
Customers will be able to pay using a saddle designed to take chip and pin or contactless payments.
Mark Ineson, who provides donkey rides on the resort's Golden Mile, said: "We're a business and we've got to move with the times."
Roy Maycock, who took his grandson for a ride on Dillon the donkey, said it was "a great idea".
"My grandson asked if he could have a ride and as I had no cash, I got the plastic out," he said.
"I remember when it used to be sixpence, but Blackpool's been modernised."
The new system will be piloted over the rest of the summer, and may be rolled out to more of the 17 donkeys if successful.