Blackpool's children's services 'need to improve'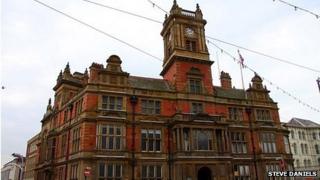 A council's child services still require improvement, Ofsted inspectors have said.
The report said Blackpool Council's child care services were not delivering good protection, help or care for children or young people.
The inspection in July found the authority had made "significant progress" since the last inspection in 2012 when it was deemed "inadequate".
Blackpool Council said it was "a big improvement".
Ivan Taylor, cabinet member for children's services, said: "We will now be addressing each and every point that is raised in the report and making sure that we continue our progress to become a good service when we are next inspected."
The inspection looked at services for children and young people who need extra support, who are looked after or who had left care.
Ofsted said no children or young people seen by inspectors were unsafe and when children or young people were identified at risk of harm, swift action had been taken to reduce risk.
About 29,000 under-18s live in Blackpool with about 1,900 children identified as being in need of children's services.