Crane hire firm on manslaughter charge after Edenfield crash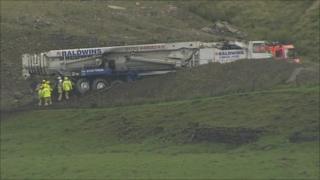 A crane hire firm has been charged with corporate manslaughter over the death of a crane driver in Lancashire.
Lindsay Easton, 49, died when the mobile crane he was driving left the road and crashed into an earth bank in Scout Moor quarry, Edenfield in 2011.
The Crown Prosecution Service said it is alleged the brakes of the crane failed.
Baldwins Crane Hire Ltd is due to appear at Burnley Magistrates' Court at a date yet to be confirmed.
Mr Easton, of Sowerby Bridge, Halifax, was driving the crane down a steep road away from a wind farm at Scout Moor when the crash happened.
Jane Wragg, from the Crown Prosecution Service (CPS), said after reviewing evidence provided by Lancashire Police and the Health and Safety Executive she concluded the firm should be charged with corporate manslaughter.
As well as being charged with causing the death of Mr Easton, the firm has also been charged with two other offences under the Health and Safety at Work Act 1974.
It is charged with breaching section 2 of the Act by failing to ensure the health, safety and welfare at work of its employees including Lindsay Easton and section 3 by failing to ensure persons not in its employment who may be affected were not exposed to risks to their health and safety between 1 January 2010 until 16 August 2011.
Baldwins Crane Hire Ltd is a nationwide firm split into four divisions; heavy cranes, small cranes, a contract lifting division and a mechanical and electrical division.