Lancashire Deputy PCC Ibrahim Master in IPCC perverting justice probe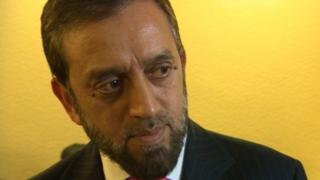 Lancashire's Deputy Police and Crime Commissioner (PCC) is being investigated over claims of attempting to pervert the course of justice.
The Independent Police Complaints Commission (IPCC) is also looking into allegations of harassment against Ibrahim Master.
After the the incident in August, police arrested a 49-year-old man from Blackburn, and two other men, aged 56 and 58, were spoken to.
Mr Master "strongly denies" misconduct.
'Conduct complaint'
Lancashire Police said the two men from Blackburn, who were not arrested, were spoken to about alleged harassment.
A complaint was made about Mr Master's conduct which was referred to Lancashire's PCC watchdog - the Police and Crime Panel.
The panel assessed the matter and then notified the IPCC in "accordance with regulations".
An IPCC spokesman said: "The investigation, which will be carried out by Lancashire Constabulary under the direction and control of the IPCC, will examine allegations of harassment and attempting to pervert the course of justice."
The investigation will be overseen by IPCC Commissioner Derrick Campbell.