Lancashire Police: Memorial unveiled for police dogs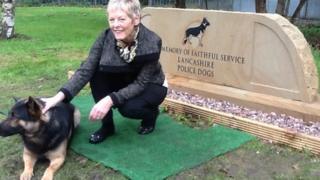 A memorial for Lancashire's late police dogs has been unveiled at the force's Dog Unit.
It has been funded by the Retired Police Dogs Benevolent Fund, which supports handlers in caring for their retired dogs.
It will feature the names of dogs which have died, with space provided for more names to be added.
Former Chief Constable Pauline Claire - who helped to establish the Benevolent Fund - unveiled the tribute.
Sgt Neil Fitzgerald, a dog trainer, said: "Police dogs are an integral part of operational policing within Lancashire and provide an invaluable service to our county.
"It is right that they should be recognised by way of this memorial.
"The names of those police dogs which have passed away will be added to the memorial so that the people who knew and loved them can visit and pay their respects. We are very grateful to the Benevolent Fund for making this happen."
Sheila Maw, chairman of the Benevolent Fund, said: "We are incredibly pleased to have been able to make this memorial happen. We are also willing to assist any other county interested in setting up a similar scheme for these worthy 'non-pensioned officers' with four legs."