World War Two tank shell found at Clitheroe building site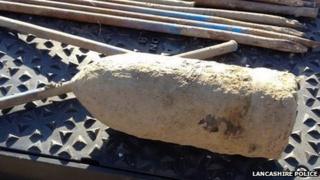 An unexploded tank shell from World War Two has been found by workmen on a Lancashire building site.
The shell was discovered on the site in Woone Lane, Clitheroe on Wednesday. Army bomb disposal experts were called to remove it.
An Army spokesman said the unfired shell weighed 25lb (11kg).
Historian Roger Frost said the area was used for wartime troop training and discarded grenades and bombs had also been found locally.
A spokesman for the Imperial War Museum North said: "If it is a 25-pounder shell, and was unfired as they seem to think, then it was possibly a spare round that was mislaid for some reason.
"Perhaps a shell that never made it far from the factory, or it was just dumped having not been used."
He added: "The 25-pounder was one of the main British artillery guns of the Second World War, so millions of those shells would have been made."