Sophie Jones' Blackpool methadone death 'haunts' father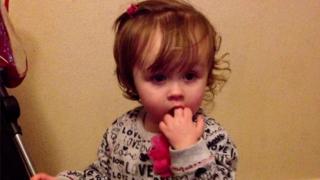 The father of a two-year-old girl who died after drinking methadone at his home has told a jury he "did all he could to keep her safe".
Sophie Jones took the heroin substitute prescribed for her mother Michelle King at their home in Blackpool.
King has admitted her manslaughter.
Sophie's father, Barry Jones, told Preston Crown Court he had been "haunted" King knew she had taken the drug and did nothing. He denies manslaughter.
The court has heard methadone was found stockpiled at the couple's home in a child's drinking cup and a fruit drink carton.
The jury was told the pair tried to cover up what had happened and if they had sought immediate medical help their daughter might have been saved with a methadone poisoning antidote.
Mother 'ran risk'
During cross-examination, Mr Jones said he had no knowledge Sophie had taken methadone on the day she died and blamed King.
"I am haunted by that; that she did know that Sophie had taken methadone and could have done something to save her life," he told the court.
"Had I known my daughter had taken methadone, I would have done something."
Mr Jones said: "I tried my best to look after Sophie. I couldn't physically do anymore; the risk was being run by Michelle."
He told the jury he feared Sophie would be taken into care if he told social services about King's behaviour.
He said he had tried his best to look after Sophie and "couldn't physically do any more".
The jury heard he had told King not to store methadone in children's cups and had poured some away, but she was "stubborn".
The prosecution claim the couple made £300 a month from selling methadone.
Mr Jones also reacted strongly to prosecution claims Sophie had been given methadone to keep her quiet while he and King took drugs.
"She certainly was not given that methadone," he said.
"I don't know how she got hold of it."
Mr Jones denies manslaughter by gross negligence and an alternative charge of causing or allowing a child's death.
The trial continues.