Warehouse damaged in fire in Blackburn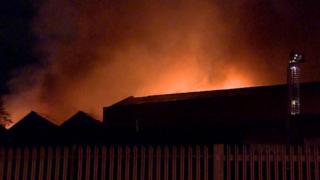 A warehouse in Blackburn has been badly damaged in a fire.
About 40 firefighters spent the night tackling the blaze at the building in Birley Street.
Forty people were evacuated from a nearby care home to Bangor Street Community Centre while the fire was put out and people living nearby were told to keep doors and windows shut.
No-one was hurt and the cause of the fire is now being investigated, the fire service said.