Blackpool Airport has a 'viable future', MPs are told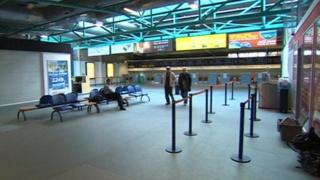 Blackpool Airport has a viable future as a commercial airfield and must not be turned into housing or retail developments, MPs have been told.
A Commons debate heard Conservative MP Mark Menzies say his constituents were concerned at the "breakneck speed" with which the airport closed last month.
Owners Balfour Beatty are looking for a new buyer.
Transport minister Robert Goodwill said the government is not able to intervene in the airport's future.
Mr Menzies said the airport had served more than 500,000 passengers in 2007 but dropped significantly during the course of the recession, while facing high running costs.
He said connectivity and transport infrastructure were vital for the government's ambitions for an economic powerhouse in the north.
'Economic vandalism'
He said: "Blackpool Airport is around 400 acres and I have been told a viable airport business on the site would only require around 220 acres to maintain an airport service.
"This leaves over 100 acres which may be suitable for commercial development and, if done in a carefully planned way, will not only raise capital for the airport's development but also attract new businesses that seek to use the runway and hangar facilities.
"But may I make it crystal clear: if any developer is seeking to buy the airport viewing it as a glorified brownfield site simply to redevelop the land in its entirety for housing, retail or commercial use, this is something I would find completely unacceptable and I would fight every step of the way.
"Such an act would be tantamount to economic vandalism."
Labour's Gordon Marsden said the airport "has the economic potential to be a crucial part not just of the sub-economy in the Fylde area but the whole of Lancashire."
But Robert Goodwill said it was ultimately the responsibility of the site's owner to decide if it was commercially viable.
---
Blackpool's aviation history
Blackpool's affair with the air began in 1909, when a meeting of the Aero Club of the United Kingdom saw Frenchman Henri Farman take to the air at Squires Gate in front of 200,000 spectators
In 1932, such was the interest in aviation that the town had two airports - at Squires Gate and Stanley Park. Four years later, the former site was chosen to be Blackpool's only airport
By 1950, 25,000 passengers were passing through the airport to travel to the Isle of Man, Manchester, London, Leeds, Birmingham, Southport and Glasgow
Improvements through the decades saw passenger numbers and the choice of destinations increase and in 2006, a £2m refurbishment of the passenger terminal saw the airport gain the capacity to handle two million passengers a year
BBC News: The highs and lows of Blackpool Airport
---