Preston student raises £45,000 after homeless man's kindness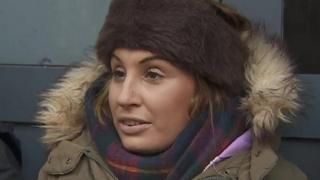 A fashion student from Lancashire who slept rough to raise money for a homeless man who tried to give her his last £3 has raised more than £45,000.
Dominique Harrison-Bentzen was offered the money for a taxi by the man, known as Robbie, after she lost her bank card on a night out in Preston in December.
She refused but was so touched she wanted to raise £500 to get him a flat.
Miss Harrison-Bentzen was "overwhelmed" by the donations, adding the money will help Robbie and other homeless people.
'Returning someone's favour'
The University of Central Lancashire student, from Leyland, said £1,500 will be given to help Robbie "set himself up".
Miss Harrison-Bentzen said: "Robbie is overwhelmed and emotional about it all. He was so grateful."
She said the money will be spent on securing him a flat, his first month's rent, a food shop and furniture for example.
Miss Harrison-Bentzen, who is studying for a masters in fashion and promotion, said: "There aren't enough positive adjectives to explain how I feel.
"It has been overwhelming. Homeless people are the focus, rather than what I did.
"I was just returning someone's favour."
The marketing graduate will be speaking to homeless charities, such as the Foxton Centre in Preston, to find out who best to donate to.
Soup kitchens, like Luv Preston, shelters, foodbanks and churches are set to benefit from the funds.
Miss Harrison-Bentzen spent the night on the city streets with people she had met through a social media page and said "friendships have been made".
She said she is looking into setting up a registered charity to help more homeless people after raising £45,979.