Whooper swan family: Martin Mere reserve tracks 'missing' cygnet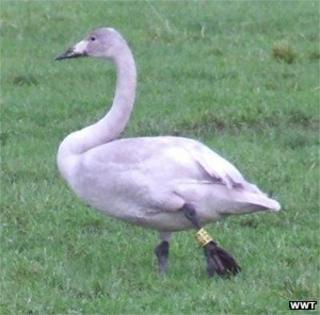 An international tracking operation has been launched after a family of Whooper swans at a Lancashire reserve left a cygnet behind in the Irish Republic.
The five birds originally migrated from Iceland but arrived at Martin Mere Wetlands in Burscough with one missing.
A cygnet, believed to be the missing bird, has since been spotted at Inch Wildfowl Reserve in Donegal.
Martin Mere's reserve manager Tom Clare said it will be monitored to see if it reunites with its family.
He said: "We get thousands of Whooper swans from Iceland every winter. Some swans go directly from Iceland to Ireland and that's the longest swan migration of any swan species over open water anywhere in the world.
"What's probably happened is, the swan family all together went to Ireland to have a bit of a rest and then continue the migration to Martin Mere but unfortunately left this one cygnet behind.
"It seems to be doing fine and feeding along with other swans which will be spending the winter over there.
"There's always the possibility it might join up with more and come back over to Martin Mere to meet up with its family.
"There are about 30,000 swans in Iceland but we were lucky enough to tag this family and it's given us really interesting information.
"When we put rings on them it gives us interesting facts about them and the more information we can gain about them the better we can help preserve and protect them."
Whooper swans
Whooper swans spend their summer in Iceland, northern Scandinavia and Russia where they raise chicks before flying south to spend the winter in Scotland, northern England and the Republic of Ireland.
The swans have to fly about 800km (500 miles) to get from Iceland to Scotland, or nearly 1,300km (800 miles) to get from Iceland to the Irish Republic.
These are probably the longest overseas flights undertaken by any swan species.
For the Whooper swans that make those journeys every year there are no places to stop and rest - it's a direct flight.
They do so with their young, who can be as young as 12 weeks old.
On the way they have to cope with extreme weather, avoid hunters and other hazards such as power lines and wind farms.
Source: The Wildfowl & Wetlands Trust (WWT)