Abusive commuter punched conductor on Blackpool South train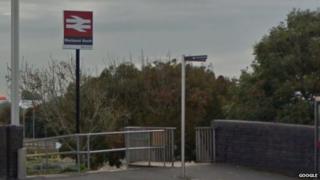 An appeal has been launched to trace a commuter who punched a train conductor when he stopped him from boarding after he was verbally abusive.
The conductor stopped the Blackpool South train in Lancashire after hearing a "loud bang" as it set off at 08:20 GMT on Wednesday.
Police said a man ran towards him shouting abuse while saying: "You left early, I'm going to be late for work".
The man then punched the conductor in the face, police said.
British Transport Police said he tried pull the conductor out of the way to board the train before assaulting him.
The man was wearing a hat, a dark jacket and dark trousers and fled towards Waterloo Road.
PC Melanie Reid said: "The conductor opened the door and got off the train.
"As he did so he saw a man running towards him shouting abuse saying 'You left early, I'm going to be late for work'.
"The man then tried to get on the train but the conductor refused him travel due to his behaviour."
The conductor was left with bruising and swelling to his face.