Man jailed for Lancaster and Morecambe rapes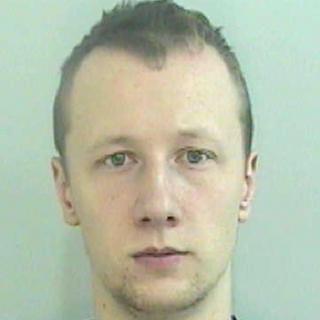 A "despicable" double rapist from Lancashire has been sentenced to life imprisonment.
Mateusz Otfinowski, 23, of Lord Street, Morecambe raped his first victim in Lancaster in March. He then attacked a second woman in Morecambe in July.
He pleaded guilty in October to four counts of rape and one count of attempted rape.
Otfinowski was ordered to serve a minimum of seven years at Preston Crown Court.
'Lone vulnerable women'
Police said he attacked one woman in a secluded side street and another in her home after entering without her knowledge or consent.
Det Insp Richard McCutcheon said: "Otfinowski subjected each of his victims to a terrifying ordeal.
"These were despicable crimes committed against lone, vulnerable women who were targeted late at night.
"Otfinowski approached his victims, who were not known to him and gained their trust and confidence by being polite to them, engaging them in conversation and offering to walk them home."
He also admitted trespass with intent to commit a sexual offence relating to a separate incident in March when he entered student accommodation in Lancaster through an open window.
Det Insp McCutcheon said fortunately female students had locked their bedroom doors so he could not get in to their rooms.