Break-in costs Rossendale and Pendle Mountain Rescue £15k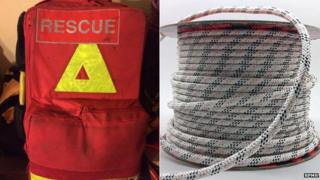 Mountain rescue equipment worth up to £15,000 has been stolen or damaged by thieves who broke into a garage.
Two medical rucksacks were taken in the break-in in Nelson, which Rossendale and Pendle Mountain Rescue (RPMR) said happened "some time in the last week".
Twenty rope access harnesses and 650ft (200m) of rope were also splashed with diesel, making them unusable, a spokeswoman said.
Lancashire Constabulary have launched an investigation into the break-in.
The garage was being used for temporary storage while the service looked for an alternative facility.
Team leader Pete Goble said the items were used in training and the service would have to use "frontline equipment" instead, which could affect their response.
"The last thing we want is for frontline equipment to be out of our response vehicles having been cleaned after training and being left out to dry when the pager goes off for an emergency," he said.
The spokeswoman said that as a charity, the service would have to raise funds to replace the equipment, which could take up to three years.