Blackburn family in prison transfer plea for convicted father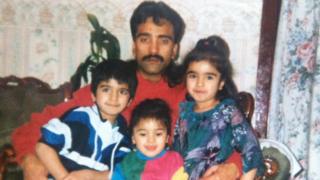 Growing up with a parent in prison can be difficult for any child. But how do you cope when your father is thousands of miles away serving two life sentences for murder?
Twenty-five-year-old Suleman Qadar and his sister Jabeen, 29, from Blackburn show me the cards their father Manzoor has sent them from prison in New York.
Hearts, flowers and drawings of mosques accompanied by phrases in Arabic grace the front, with messages to his children inside.
"He drew all these pictures by hand. When you don't have much and you want to show your family you love them, you have to be creative," said Suleman.
In 2003, the father-of-six was given two life sentences by an American court, after being found guilty of murdering his cousin, Shaukat Parvez, in a shooting near the victim's home in Queens, New York.
The family have now launched a campaign - Justice4Daddy - in a bid to have their father transferred to a British prison.
"He's 54 years of age and life is short. We've been fighting a 14-year battle, trying to prove my dad's innocence but we haven't succeeded.
"All we're trying to do now is get him transferred to a prison in England so we can be closer to him," said Suleman.
"He'll ring maybe twice a day but there's a time limit of 15 minutes and after that it just cuts off.
"Every time I hear his voice, it just gives me that kick. It gives me motivation to carry on," said Suleman, a restaurant manager.
'Biggest mistake'
Mr Qadar was arrested in Dover in 2001, on his way back to Blackburn from a holiday in Holland, five years after the shooting.
Eyewitnesses reported seeing two men at the scene of the murder - something the former NHS nurse doesn't deny, claiming he was in the area to see his cousin.
But the accounts were enough for police to detain him.
"When he was arrested, we were traumatised. Your father being called a hitman, a murderer, it's not nice," said Jabeen.
Having been held in a London prison for several months, Mr Qadar decided to pre-empt formal extradition proceedings in 2001, voluntarily returning to America in a bid to clear his name.
For Jabeen, that decision was her father's biggest mistake.
"He felt, 'I'm innocent, it's the land of the free, so why not just fight the case in America?'
"If he had decided to defend himself here in the UK, he would have been out by now. Forget parole, he would have served his sentence and been back with us."
'No man's land'
Jabeen and Suleman last saw their father eight years ago, having saved up to pay for flights and accommodation. Their 17-year-old sister Juwairiah last saw him when she was three.
"We want the UK government to stand up for us, work closer with the American government to get prisoners like my dad back to their home country to serve the remainder of his sentence.
"It's part of their rehabilitation process - if a prisoner can't see their family, that's no rehabilitation for them at all.
"If he was in prison in London, we could visit him every weekend at least," said Jabeen, who works as a project manager and is the self-proclaimed breadwinner of the family.
The Foreign & Commonwealth Office confirmed they are aware of Mr Qadar's case and were "providing him with consular assistance".
The Ministry of Justice said that, though the UK does have prisoner transfer agreements in place with the US, such agreements do not give prisoners a right to a move - the decision ultimately remains with the government of the country in which the crime has been committed.
According to Prisoners Abroad, a charity which supports British nationals held in foreign jails, more than 260 prisoners currently serving sentences in the United States have contacted them asking for help - the largest number of requests by Britons from a single country.
For Jabeen, living in what she describes as "no man's land", is the hardest thing of all.
"It's different when someone dies, you get to grips with saying goodbye.
"But not being able to see someone you know is still out there, it's like having a big brick wall in front of you that you just can't break down."
You can hear more on this story on BBC Asian Network at 13:00 and 17:00 GMT, or on the BBC iPlayer.