WW1: 'Unceasingly devoted' doctor's death marked 100 years after horse fall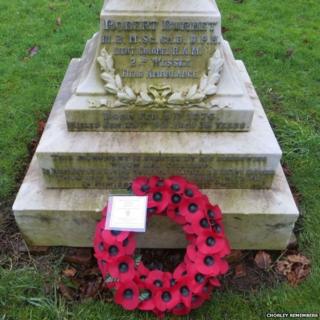 A wreath has been laid at the grave of a "devoted" army officer and doctor from Wigan on the 100th anniversary of his death in a riding accident.
Lt Colonel Robert Burnet studied in the Isle of Man in the 1890s, joined the Royal Army Medical Corps in 1907 and died in 1915 before seeing service.
The wreath was laid by World War One historian Steve Williams, who runs the volunteer-led group Chorley Remembers.
He said: "His skills as a doctor and surgeon would have been invaluable."
Mr Williams laid the wrath on behalf of King William's College in the Isle of Man.
He was working as a Medical Officer for Health for Cornwall when he joined the army in 1907 - quickly progressing to the rank of Lt Colonel.
Mr Burnet died on 28 January 1915 after being thrown from his horse while riding near Exeter.
At the time of his death, Brig Gen G S Elliott, of the Wessex Division, said Mr Burnet was an officer of "very high professional attainments, and these he devoted unceasingly with never-failing energy and earnestness to the welfare of his division.
He added: "The army had been deprived of the services of an officer who can ill be spared".
Mr Williams said: "As a historian I wonder what contribution he could have made serving in the First World War and if he had survived it.
"His experience as a doctor, surgeon and seven years as an army officer would have been invaluable."
Mr Burnet was also a leading expert and author in the area of polio.