Julie Hesmondhalgh awarded Freedom of Hyndburn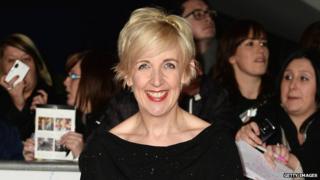 Former Coronation Street star Julie Hesmondhalgh has been awarded the freedom of her Lancashire borough.
The actress, who played Hayley Cropper in the ITV soap, was described as "a wonderful ambassador" for Hyndburn by Councillor Ken Moss.
"The Freedom of the Borough is the highest honour we can bestow, and Julie Hesmondhalgh is most definitely a worthy recipient," he said.
Born in Accrington, the 44-year-old is starring in Channel 4 drama Cucumber.
About 10.2m viewers watched her Coronation Street character leave the soap last January by carrying out her wish to die rather than continue suffering from pancreatic cancer.
In recent years, she has also appeared at the Manchester Royal Exchange theatre, starring in Blindsided and Black Roses: The Killing Of Sophie Lancaster.
Hesmondhalgh, a patron of Accrington charity Maundy Relief, received her honour at a ceremony on Wednesday evening at Accrington and Rossendale College, where she studied as a teenager before moving to London to study drama and music.