Brice Veevers: Missing man's bone found on Fleetwood beach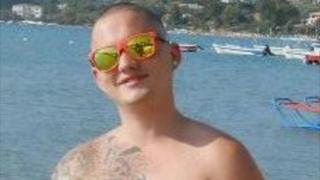 Two girls who found a human bone on a beach are being urged to come forward by police trying to solve the death and disappearance of a 27-year-old man.
The bone was found near Rossall Point in Fleetwood, Lancashire in late September or early October 2014.
It has now been identified as belonging to Brice Veevers of Nottinghamshire. His family have been informed.
He was reported missing in Blackpool in September 2013, and police are not treating his death as suspicious.
Officers are trying to trace the girls to ask them exactly where they discovered the bone, which they handed in to the rangers' office at Rossall Point.
Det Insp Jason Richardson, of Blackpool CID, said: "This is a very sad set of circumstances for the family and friends of Mr Veevers and my thoughts are very much with them at this time.
"We are keen to find out exactly whereabouts on the beach the bone was discovered, so that we can begin a search of the area and we would urge the two girls who handed the bone in to come forward.
"I would also urge anyone else who uses the beach and may have found anything similar to get in touch."