Preston woman who fled the Nazis receives city honour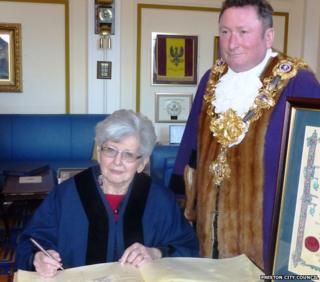 A woman who fled Czechoslovakia the day before Nazis invaded in World War Two has been awarded the freedom of Preston for being a "wonderful ambassador".
Lady Milena Grenfell-Baines was one of 669 mostly Jewish children who escaped on a train in 1939 before arriving in London. She moved to Preston later.
She was given the Honorary Freedom of the City for being a "notable citizen" for more than 50 years.
Preston City Council said Lady Grenfell-Baines was an "inspiration".
'Remarkable spirit'
Her services include being the chairwoman of the Preston Friends of the Royal Liverpool Philharmonic Orchestra and being a trustee of the Harris Charity.
She was also involved with the Preston Guild 2012 and has been a member of the city's Twinning Committee.
Lady Grenfell-Baines has organised exchange visits between Czech students at her Preston catering college and has taken groups to Czech music festivals.
Mayor of Preston Nick Pomfret said: "Lady Grenfell-Baines has been a wonderful ambassador for Preston. With her natural charm and enthusiasm, she has been an inspiration to many.
"Milena has shown remarkable spirit and energy to all the different aspects of her life."
Lady Grenfell-Baines was on one of eight trains organised by Sir Nicholas Winton to help the children, most of them Jews, escape occupied Czechoslovakia and find foster families in the UK.
Last year, 105-year-old Sir Nicholas was given the Order of the White Lion by the Czech president. He was dubbed the "British Schindler" after his work came to light in the late 1980s.
Lady Grenfell-Baines was given her title when her husband George was knighted in 1978. He died in 2003.