Bishop of Burnley: Right Reverend Philip North installed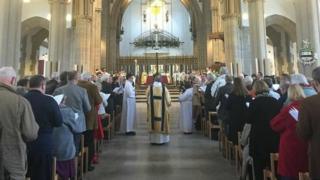 The Right Reverend Philip North has been installed as the new Bishop of Burnley.
The Blackburn Cathedral service follows the Bishop's consecration on 2 February at York Minster.
The consecration was presided over by The Archbishop of York, Dr John Sentamu, but elements of the service were changed due to Bishop North's opposition to female bishops.
He succeeds the Right Reverend John Goddard, who retired in July.
The new bishop used his first sermon to issue a call to local churches to reach out to a world of "growing injustice" and remember the "vital, hopeful role" they could play.
He said: "Our purpose is to be bearers of a message of love; that life-transforming, sacrificial love revealed to us through the cross of our Saviour Jesus Christ.
"That's what we're for. We are the Valentine; we are the messengers of love."
Bishop North has become a suffragan - or assistant bishop - in the Diocese of Blackburn.
He was born in north London and studied history at the University of York.
He has previously been forced to turn down an appointment as bishop because his new flock did not accept his views on the ordination of women.