Modern slavery probe: Man arrested after Burnley raid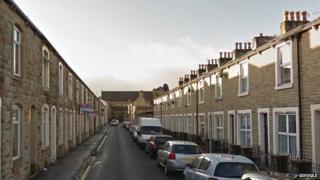 A man has been arrested after an investigation into modern slavery and people trafficking in Lancashire.
Officers raided an address on Albert Street, Burnley on Monday after a man complained he was "kept against his will and made to do work".
Lancashire Police said the man is in a safe place and is being supported by a number of charities and agencies.
A 29-year-old man from Nelson was held on suspicion of knowingly holding another person in slavery or servitude.
He remains in police custody for questioning.
The force described it as one of the first cases of its kind in Lancashire.