Father calls for ban on legal highs in Blackpool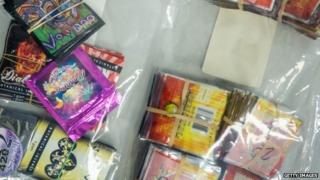 The father of a 15-year-old boy from Blackpool who suffered an adverse reaction to a legal high has called for them to be banned completely.
Paul Clare's son tried to jump from his bedroom window after buying a substance called Black Mamba over the counter.
Five shops in Blackpool were stopped from selling psychoactive substances by the local authority earlier this month.
The council said there were 15 cases in the past year of teenagers needing hospital treatment after taking them.
'Foaming at the mouth'
Mr Clare said his son started hallucinating after taking the tobacco-like substance in 2012 and became convinced people were chasing after him.
He wants to see legal highs banned after seeing his son "screaming and shaking and started foaming at the mouth."
"He bought the drug over the counter. Nobody checked his age, nobody told him what the affects could be," Mr Clare said.
His son recovered after hospital treatment.
Lincoln City Council is set to introduce the UK's first ban on legal highs on 1 April after a significant increase in related incidents and anti-social behaviour.
Blackpool Council has written to shops prohibiting them from selling the psychoactive substances or they will face prosecution.
Councillor Gillian Campbell, Blackpool Council's cabinet member for public safety, said: "Legal highs are an absolute scourge and, in my opinion, selling them is no better than drug dealing.
"People are becoming addicted to these substances and we simply cannot allow that to go unchallenged."
Dr Arif Rajpura, Blackpool Council's director of public health, said: "Just because these things are being sold as 'legal' doesn't mean that they are safe and I would urge residents not to take them."
But a Blackpool shopkeeper, who asked to be named only as Julie, said the council's decision to stop shops selling the substances is "absolute rubbish".
"If you go to a shop which is labelled a legal high shop it's very clear what it is, there is a traceable process.
"I think it gives people a safer alternative to illegal drugs."
---
What are legal highs?
Research by think tank the Centre for Social Justice revealed that in England, the number of incidents involving a legal high rose from 1,365 in 2013 to 3,664 in 2014, an increase of 169%
Legal highs are similar to illegal drugs but have had their chemistry tweaked meaning they are not covered by the Misuse of Drugs Act and are legal to sell
Some, such as Spice, are equivalent to highly potent cannabis, while others are designed to imitate drugs like LSD or even heroin
Because they are not covered by the law they can be sold openly; normally in "head shops" though also in places such as garages and petrol stations
Marked "not-for-human-consumption", they are packaged like sweets and labelled "research chemicals" or "plant food"
---