'Benefit culture' and poor accommodation blights Blackpool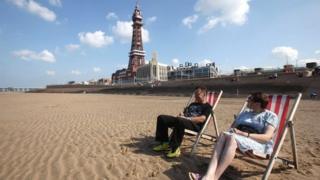 Blackpool must eliminate poor accommodation and "tackle the benefit culture that blights the resort", a report has said.
The council's Destination Blackpool report said the town must attract more visitors and investment and step away from the "stag and hen party" image.
Plans for the next three years include more big summer shows and creating 1,500 new jobs in the tourism sector.
Hotelier Claire Smith said: "It's about giving people what they want."
'Negative perceptions'
The report said the resort's well-known attractions will be retained, "building on the positive perceptions of Blackpool as a place that evokes warmth, nostalgia and a strong emotional link to people's family experiences".
But there will be a "gradual elimination of poor-quality, sub-standard accommodation and facilities, combined with a shift away from a low-budget stag and hen culture that creates barriers and negative perceptions.
"We are determined to improve the standard of our facilities, tackle the benefit culture that blights the resort and resolve the over-supply of poor accommodation," it said.
Graham Cain, cabinet member for leisure and tourism, said the report "clearly sets out some ambitious targets, but we believe they are achievable".
"People are investing in Blackpool and wanting to raise the standard of accommodation and that's a big ambition," he said.
"We don't believe in people lowering the hotel prices, we want them to raise their standards. The ones that are doing well are the ones that are investing.
"We want to make Blackpool a venue for families for years to come."
Ms Smith, president of hoteliers' group Stay Blackpool, said improvements "are most certainly happening but there is a big job to do and a long way to go.
"Blackpool is definitely, definitely on the way up.
"Stags and hens have always been welcome here so we are zoning - they party in the clubs in one area of town without upsetting the families at the attractions at the other end of the resort.
"It's about giving people what they want."