Lancashire fire crews to respond to medical emergencies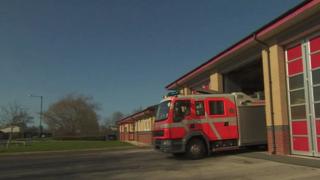 Firefighters in two Lancashire towns will respond to medical emergencies as part of a pilot scheme to improve survival rates.
Specially trained fire crews from Morecambe and Ormskirk will be dispatched to cases such as cardiac arrests if they can get there first.
The First Responder project will run in conjunction with North West Ambulance Service (NWAS) for six months.
If successful, the scheme could be rolled out across the county.
Justin Johnson, from Lancashire Fire and Rescue (LFRS), said it would improve chances of survival in life threatening situations.
"There are community first responder schemes across the county and we will be supporting that," he added, "but we have the added advantage of being able to get to the emergency with blue lights and sirens and bring our experience in working in difficult situations."
LFRS said, under the pilot scheme, fire crews would be mobilised at the same time as an ambulance and would supplement, not replace, the NWAS response.
The Fire Brigades Union (FBU) said: "No matter what the outcome of this project, the FBU believe that the public is best served by a properly-funded ambulance service, and a properly-funded fire service, neither of which is currently the case."
The union added it was in talks with LFRS on the future of the pilot.