Ibrahim Master: Former deputy PCC misconduct probe dropped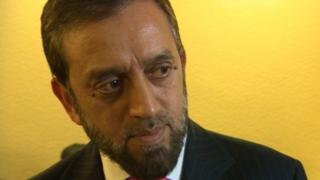 Lancashire's former deputy police and crime commissioner is no longer being investigated over claims of misconduct.
The Independent Police Complaints Commission (IPCC) had said it was looking into Ibrahim Master's actions in relation to a domestic incident.
Mr Master strongly denied the claims made against him in October.
The IPCC said its report was referred to the Crown Prosecution Service, which said there was "insufficient evidence to bring any criminal proceedings".
After an incident in August, a 49-year-old man from Blackburn was arrested and two other men were spoken to about alleged harassment.
Mr Master, 56, was not arrested and strongly denied any misconduct.
He said the investigation had been a "horrendous experience" but added: "I always had faith in our criminal justice system and knew that I would be totally vindicated at the end."
Lancashire Police said the force "accepts the decision made", adding: "We make no apologies for taking action that we believed was in the best interest of a vulnerable victim and we remain committed to investigating all reports of domestic abuse diligently."