Solar eclipse 2015: Couple give away 28,000 pairs of glasses in son's memory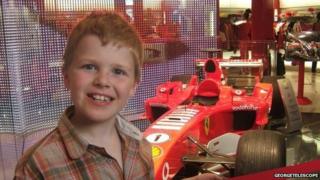 The parents of a young astronomy "fanatic" have given about 28,000 pairs of special "eclipse glasses" to local schoolchildren in memory of their son.
George Higginson, from Overton, Lancashire - known locally as the "little scientist" - died in 2009 aged 10 after a road collision.
The boy's memorial fund has paid for the glasses to be sent to nearly 80 schools in the Lancaster area.
Jonathan Higginson said his son was "fanatic over science and astronomy".
"[If he was alive] he would have been up all night with anticipation and excitement, and pestered everyone to death and never got off our case," he said.
George's parents hope to raise enough money to enable an observatory - featuring a telescope in their son's name - to return to Williamson Park in Lancaster.
The park used to be home to the Greg Observatory, officially opened in 1892, and was named after its owner and cotton mill manufacturer John Greg.
Mr Higginson said talks with local councils had been "favourable".