Victoria Cross awarded to Preston WW1 soldier sold at auction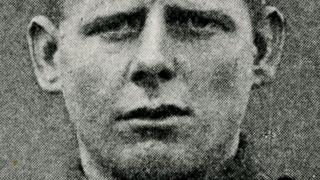 A Victoria Cross and other medals awarded to a Lancashire soldier for bravery during World War One have been sold at auction for £144,000.
Despite seeing five previous messengers die, Pte James Towers from Preston volunteered to take a note to a stranded platoon in Mericourt, France.
He was awarded the Victoria Cross by King George V on 8 May 1919.
London auctioneers Dix Noonan Webb, who sold the medals collection, highlighted Pte Towers' "cold-blooded bravery".
The medals were bought as a single lot by an anonymous online bidder.
Pte Towers served with 2nd Battalion, The Cameronians (Scottish Rifles).
Auctioneer David Erskine-Hill said Pte Towers and other soldiers had been holding a railway embankment at Mericourt on 6 October 1918 but were ordered to retreat as they came under heavy attack.
Mr Erskine-Hill said one platoon had become cut off and did not receive the order. Five volunteers were shot down attempting to give the order when Pte Towers, then aged 21, volunteered.
He said: "This was cool, calculated courage from a man prepared to risk his own life to stop his fellow soldiers from being cut off."
He added it was a "great story of gallantry and survival".
Pte Towers, who died in 1977, was reported to have said in the Lancashire Daily Post on 12 November 1929: "I felt then that I had to go to the help of these lads. After all, they were my pals.
"Five men tried to get through and I was the sixth. I made a dive and got through. The worst part was that I didn't know just where our chaps were."
The citation on his Victoria Cross reads: "His valour, determination, and utter disregard of danger were an inspiring example to all."