'Morecambe Birdman' sentenced for pigeon Asbo breach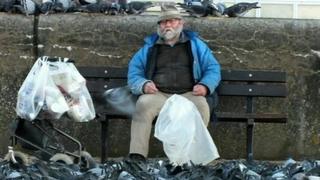 A man who was previously jailed for feeding pigeons has appeared in court again for ignoring an order to stop.
John Wilkinson, known as the Morecambe Birdman, had been forbidden from dishing out birdseed in his hometown amid fears it posed a health risk.
He had been ordered to stick to a 0.5kg (1.1 lb) limit, after he was caught handing out 40kg (88lb) of seed daily.
Wilkinson, of Cavendish Road, was given a 12-month community order by magistrates in Lancaster.
He had admitted breaching an Anti-Social Behaviour Order (Asbo) at an earlier hearing.
Lancaster City Council said Wilkinson has been feeding up to 300 pigeons a day around his home for many years.
The council said it had issued previous warnings over concerns his actions were creating a mess in the town.
He was jailed for three weeks last year for ignoring another order, which banned him from feeding pigeons within 100m of his home.