Kyle Major: Boy, 14, detained for killing Blackpool man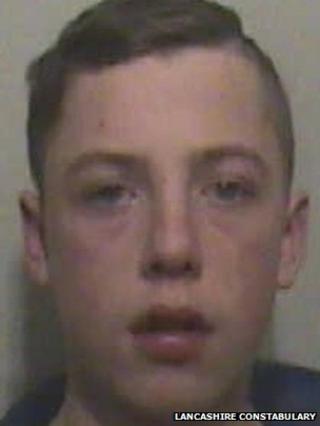 A drunken 14-year-old boy who killed a man after wishing him "Happy New Year" in an unprovoked attack has been detained for three years.
Kyle Major, from Blackpool, admitted punching Paul Walker in the back of the head after the 52-year-old asked his friends for directions.
Mr Walker was found unconscious and face down in Sutton Place, Blackpool. He died later in hospital.
Preston Crown Court heard Major had drunk six bottles of lager and whiskey.
'Allowed to run wild'
Major, of Devonshire Road, was sentenced to three years at a young offenders' institute after pleading guilty to manslaughter at a previous hearing.
He stared blankly ahead throughout the sentencing proceedings and showed no emotion as he was led from the dock.
The court heard that Mr Walker, described by his family as "a lovely man with a big heart", became lost after leaving his sister's New Year's Eve party "in good spirits".
He came across a group of youths in Sutton Place who told him where he was, including Major who wished him "Happy New Year".
The defendant and a male friend then followed Mr Walker.
After felling Mr Walker, the court heard Major ran off and later texted another friend: "I'm scared. Don't want to go to jail. Two/four years. Don't say anything."
A post-mortem examination showed Mr Walker - who still had his hands in his pockets when paramedics found him - had suffered fatal injuries to his head, face and neck.
Major initially denied any involvement in the attack when arrested.
The court heard that Major regularly drank to excess and was a habitual user of cannabis.
He already had seven previous convictions for non-violent offences such as burglary and theft.
'Off the rails'
Julie Taylor, defending, said: "Kyle Major in the early hours of New Year's Day this year was just 14-and-a-half-years-old. He was somebody at that stage in his life who perhaps did not have the parental guidance he needed at that time."
She said her client had "gone off the rails" but was now "extremely remorseful" and apologised to Mr Walker's family for his actions.
He had been under the supervision of a youth offending team since December 2013 following various court orders but his response was said to have been "poor" and he was described in reports as acting in "a reckless and carefree manner" with no regard to the consequences to himself or others.
Judge Anthony Russell QC told him: "Your upbringing was unfortunate. You have been allowed to run wild.
"This sort of unprovoked attack in the street is a regular feature of towns and cities in this country, regrettably."
He lifted reporting restrictions on naming Major after considering that the public interest in identifying him outweighed the juvenile's welfare.
Det Ch Insp Pete Simm of Lancashire Constabulary said Major's "reckless and violent actions" tragically cut short Mr Walker's life leaving "devastating consequences" for his family and friends.