David Rogers 'chance' portrait by Jeff Stultiens on show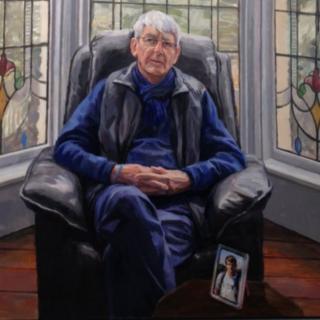 A charity campaigner has had his portrait painted by an artist who is best known for depicting the Queen, after a chance meeting on his doorstep.
David Rogers' son Adam, 24, was killed in a one-punch attack while on a night out in Blackburn in 2009.
Painter Jeff Stultiens used to live at Mr Rogers' home in the Lancashire town, and knocked on the door to find out more about his old house.
He then produced Mr Rogers' portrait, which is on show at a London gallery.
Mr Rogers, 80, said he was happy to show Mr Stultiens - whose family owned the house from 1909 - around the property.
The artist, a member of the Royal Society of Portrait Painters, said he was inspired to paint Mr Rogers because his face had "character".
Mr Rogers, who was officially appointed an MBE in February for his charity work, said it was "outstanding" and "moving" to see his portrait on the wall of Mall Galleries.
He said: "It is amazing just from a knock on the door out of the blue. I think he has done a beautiful job."
His wife Pat, who co-founded the charity Every Action Has Consequences, said: "It is stunning. It is just like David; his eyes and emotions.
"What is lovely is he has added a small picture of Adam... which is just beautiful."
Adam, a ladies' football coach, was punched by William Upton, from Rishton, after trying to act as peacemaker in a fight in Blackburn in 2009.
Upton, who was 16 at the time, was convicted of manslaughter and sentenced to four years in prison.
Mr Stultiens' portrait of the Queen, painted in 2003, measured 92x58 inches (234x147cm) - a third larger than real life.